During the spring of this year, my clients, Adam and Lindsey bought a really cool and unique loft in downtown Toronto. They had been eyeing it for a while and were super excited when it was time to finally make the purchase! The loft is 2 storey (love it!) and features 3 bedrooms (one bedroom on the main floor) and 3 washrooms. Although the loft is a great space, it was lacking some character, but I knew Lindsey, with her good eye for home design and organizational skills, would turn it into a stylish yet cozy home. I went by there recently and Lindsey definitely did not disappoint, hence why her loft made it into the "Cool Homes" this week.
Let me know what you think!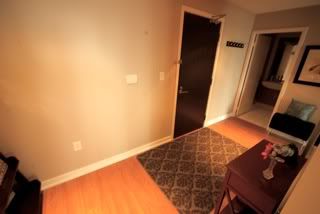 Front foyer, lots of space to greet your guests and help them get settled in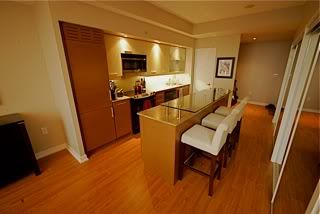 How great is this kitchen? I love that breakfast bar with the glass and cool stools, so perfect for entertaining!Also can you guess where the fridge is?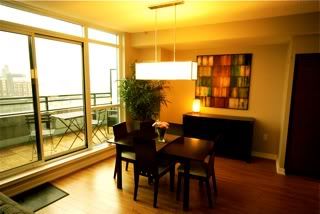 Dining room, digging the floor to ceiling sliding doors and that light fixture……I want! This is what I call, dining in style.


Living room and dining room, drooling over the open concept with the 16 ft floor to ceiling windows, also how awesome is that couch? It's sooooo cozy looking!


I just want to curl up on that couch and watch a movie or a cool lighting storm out those windows.


3rd bedroom on the main floor, Lindsey has some beautiful artwork all around this room, although she tells me it's still a work in progress, I say it's perfect!


First off, I just want to say that I'm dying to get my hands on that chair! Stairs going up, it's true loft style.


Adam and Lindsey's master bedroom, yes those curtains totally black out the room as Lindsey tells me which makes it great for sleeping, combined with all the warm colours she has used in this room. I really want to crawl in the bed and pass out, but unfortunately Lindsey is home. But the best part of this bedroom is still yet to come, are you ready?


Not only do you have his and her closets, to your left, but you also have his and her sinks. How sexy is this washroom? The bath and shower area is truly unique, it is ALL glass, ALL the time, you can watch your loved one from the bed or from the sink area, I'm definitely smitten!


Can't have a cool indoor space without having a cool outdoor space and this loft does not disappoint. The terrace faces south giving a view of the lake and Porter Airlines (who doesn't like watching planes take off and land), while curling up on your outdoor sofa located on the other end of this terrace. Also isn't that floor to die for? That was Lindsey's discovery, she even installed it herself, way to go Lindsey!
Thanks again to Adam and Lindsey for welcoming me into their home and allowing me to take pictures, you both did a great job!
If you have a cool space or uniquely decorated space, you would like me to feature, make sure to contact me.