Today's "Cool Homes" doesn't feature just one home but several rooms in different homes. If you haven't noticed yet, but I'm a sucker for rustic, vintage and antique meets fab chic, so today's post will encompass all those details, remember the perfect lies in imperfection. Check out the pictures below and let me know which one is your favourite.
This dining room is perfect for a drama queen like me, they cheated here a bit as the walls were given a treatment to look weathered…nonetheless I still love!
Totally digging those old factory windows, the fading paint is for real!
This bathroom is total warehouse/jail style with the exposed beams and metal sink and don't you just love that tub!!! I think the rust gives this bathroom a ton of character
How can you not love this weathered cafe chair and vintage door…it has "me" written all over it
I think this is one of my favourite kitchens I have ever seen…that table has so much history, I definitely want!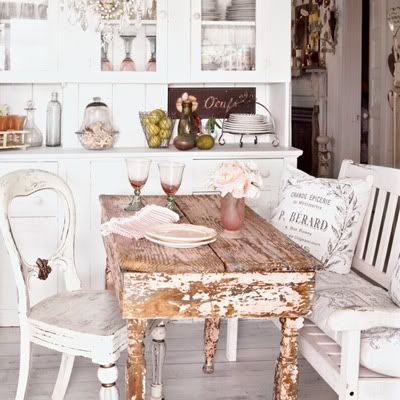 Not only is that chandelier fabulous, I love how these weathered doors were used to create a headboard, I  must also point out that awesome chair at the foot of the bed and green storage cabinet…it was love at first sight for me!!!!
There is nothing that I don't like or want for myself…from the chandelier, to the matching rusty chairs, to the shelving unit and even the floors….can you say character much?

Why would anyone want to fix these scratched and ripped walls…it totally works here with those old floors
eclectic bedroom design
by
philadelphia showroom
Last, but not least, my all time favourite bathroom…how great is this idea to use a vintage cabinet as a vanity, I will be definitely doing this in my next project with his and hers bowl sinks…so excited!!!
If you have a cool home, please feel free to share it with me…you can always email me at oleksaka@gmail.com
***All images via Houzz, Coastal Living & Eclected Revisited***