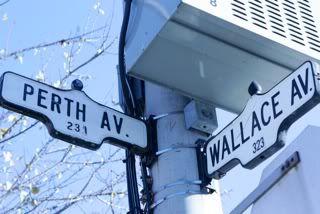 Welcome to my first ever neighbourhood spotlight. I will be featuring a different neighbourhood every month located in West Toronto, when I run out of  neighbourhoods in the West, I will work my way East. The spotlight will contain information about the types of homes and prices in the neighbourhood as well as things to do and see within a particular area. Also, I'm open to suggestions, so if there is a neighbourhood in Toronto that you would like me to feature, please let me know! First up is a neighbourhood that is very near and dear to me, the place I call home and love, it's………..the Junction Triangle.
Junction Triangle
This neighbourhood is located in Toronto's west end, just west of Lansdowne Ave. The area is a triangle surrounded on all 3 sides by railway lines. Bloor Street cuts across the neighbourhood, Dupont St runs close to the northern edge, and Dundas St close to the southern boundary (Wikipedia). The actual name of the neighbourhood has not been around as long as the actual neighbourhood itself. In March 2010, the city had the residents vote on a name and the top choice, 46.6% to be exact, was the Junction Triangle.
People:
There has been a noticeable shift over the last few years of the type of people moving into this neighbourhood. Majority of residents are under the age of 40 (43.86%) and either single (35.42%) or married (45.83%) with young kids or kids on the way. These reno happy buyers are snatching up properties in this HOT, up and coming neighbourhood, where homes in Seaton Village and Little Italy have currently become unattainable for this bunch. This group is made up of first time buyers and condo dwellers who are ready to upgrade for more space to start a family. Although a predominately English speaking neighbourhood, it's culturally diverse with a mix of Portuguese, Spanish, Vietnamese and Cantonese residents, bringing vibrancy to the area.
Properties:

In this neighbourhood you will find an eclectic mix of renovated homes, rooming houses and houses in dire need of some TLC, which only adds character to this area. There is everything from mini Annex style Victorians to cute semis to newer infill housing. The streets tend to be more narrow which creates a real community feel. You can actually get to know your neighbours and they usually tend to be pretty cool. The average selling price thus far in 2011 is $390,477, but don't be fooled by this number as it is not uncommon to see properties selling for the low to mid $500's. This pocket of Toronto seems to be very popular among the young couples who are giving up their right arm and maybe first born child to move into this desirable neighbourhood.
It's an ideal time to buy in the Junction Triangle as homes are still affordable while the area is seeing constant change for the better. If you would like more information about sold prices in the neighbourhood as well as pricing trends, click Send Me Junction Triangle Neighbourhood Reports, they will be delivered to your inbox on a monthly basis and include 47 other Toronto neighbourhoods.
Things To Do & Places To See
Since there is so much change happening in this neighbourhood, a lot of local businesses have seen opportunities and set up shop, providing a good mix between old and new. Also, the Junction Triangle has everything to offer families from schools to parks to walking paths as well as everyday conveniences. Here is a list of a few.



Schools
St. Luigi Catholic School
This is a catholic elementary school located on 2 Ruskin Ave and offers classes starting from junior kindergarten right through to grade 8. This school has been around since 1978.
Perth Ave Public School-Junior
This is a junior public school located on 14 Ruskin Ave and offers classes starting from junior kindergarten right through to grade 6. This school has been around since 1889!!! Currently parents in the area are campaigning for a Middle Immersion French program starting in grade 4.
St. Rita Catholic School
This is a catholic elementary school located on 178 Edwin Ave (right beside Carlton Park) and offers classes starting from junior kindergarten right through to grade 8. This school has been around since 1922.

Parks
There are several parks to enjoy and walk your dogs in, like Harley and I do:
Carlton Park (On Edith Ave, north of Dupont)
Perth Square Park (On Perth Ave, north of Wallace)
Campbell Ave Park (On Campbell Ave, north of Wallace)
Although technically there is no subway station located within the parameters of the Junction Triangle, just to the east and west of this neighbourhood, we have 2 subway stations, not to mention the numerous TTC buses that go through the area itself. To the west, we have Dundas West Station and to the east we have Lansdowne station. How convenient!

Library
We can't forget our neighbourhood library, Perth/Dupont Library, located on Dupont St just 2 blocks west of Symmington.There are always lots of things to do for kids and adults and it also brings the community together.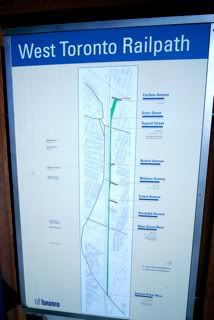 The West Toronto Railpath was completed in the summer of 2009 and formally opened in Oct 2009. It is a multi use path for pedestrians and cyclists, running from the Junction Triangle towards downtown Toronto.  The path combines restoration of historical rail bridges and installation of public art pieces by John Dickson. It starts at Cariboo Ave and runs along to Stratchan Ave. There are also pedestrian street level entrance points on Dupont St and Bloor St allowing people to utilize the restored bridges as well as the plazas scattered along the way that really brings a community feel to this path.
Restaurants, Cafes, Bars, And More!
Here is a list of some of the places to eat, drink and enjoy…if you have been to any of these places, let me know what you think:


Piri Piri Churrasqueira 1444 Dupont St (west of Lansdowne Ave)
This neighbourhood would not be complete without our very own Portuguese churrasqueira. This one blows most out of the water with their reasonably priced food, friendly owner and servers and even a nice and romantic setting. This place is always packed and smells amazing and who can say no to that hot sauce, I can drink it by the cup!
Boo Radley's Junction Bar and Grill 1482 Dupont St
Right across the street from Piri Piri you will find this local favourite. As soon as you walk in, you notice how cozy and dark it feels. Customers can either choose from a long list of diner classics or home cooked favourites. Also don't forget to stop in for brunch, served on weekends only, until 4pm! Oh and did I mention their big patio, perfect for summer days and nights!

Open Door Designs Puppets & Puppet Theatres 1597 Dupont St
Open Door Designs makes portable puppet theatres and has puppets for sale and rent. The puppets are a collection of  the owner, Joanne's own designs as well as other Canadian designers and even vintage puppets. Joanne Bigham, stumbled into puppet theatre by chance and spent 6 years on the road with Sharon, Lois and Bram. Open Door Design was born when a friend asked Joanne to make a puppet theatre that could be taken to libraries and schools.Since then, the business continued to grow and thrive and in 2007 Joanne opened her retail store.  You can also catch Joanne and her puppets at the One Of A Kind Show happening from November 24-December 4, 2011.

Osler Fish Warehouse 16 Osler St
Looking for some fresh seafood in the neighbourhood? Why not stop by the Osler Fish Warehouse which not only provides fresh fish to the restaurant market, but is also open to the public. They not only sell fresh seafood but also fine Portuguese products. Make sure to also check out their website for a full list of products they carry and even recipes!

Good Times Bad Times Cafe (GTBT) 1421 Bloor St W (corner of Sterling)
This is a great new addition to the Junction Triangle, and when I say new, I mean really new. Juan and Marco literally opened their doors on Oct 31st and since then this place has become a neighbourhood favourite. They have an amazing selection of teas, the leaves are on display for you to see and smell and yummy homemade desserts. They are all delish, but make sure to try a slice of one of their killer pies. The Cafe also has a book exchange and games for customers to play. They are also trying to set up a chess competition so make sure to sign up. There's also plenty of comfy seating available giving you plenty of reasons to drop in.
 1426 Bloor St W

Another new addition to the Junction Triangle, Zocalo, opened it's doors a year and a half ago and run by 2 very friendly locals. You really have to pay attention when trying to find this bistro as it has a very simple front giving off that vibe of a great neighbourhood spot that's so not in your face. The food pairing is very unique to anything I have seen and their coffee rivals many coffee spots in the area. Did I also mention that the decor is all rustic/vintage from the wood bar to the eclectic hanging chandeliers, it was love at first sight for me. And how can I forget the new patio, perfect for hanging out with friends and enjoying some yummy food and drinks!
Angel's Cafe 145 Symmington Ave (on the corner of Wallace Ave)


Angel's Cafe is a small family run coffee shop that is also new to the Junction Triangle. The owners, Matilda who is a paralegal and Angel a programmer, run this coffee shop after they finish their day jobs and close up shop at 10pm and retire to their home and 2 kids which is attached to the cafe. Angel's Cafe is not your typical coffee joint, Matilda and Angel have put a unique twist by not only serving fresh, savoury pastries but also breakfast, empanadas and alfajores all for under $5! The owners look for Torontonians who "make things and don't have a place to sell them". I just absolutely love the community feel I get every time I step foot into this place. Angel's Cafe is definitely a spot worth checking out and coming back to over and over again.
Coming Soon……..Corner of Wallace Ave and Campbell Ave


Formerly known as Yasi's Place, one of the first brunch places serving the Junction Triangle, has taken on new owners. Rumor has it that the new owners will open it as a cafe with food and liquor to follow down the road. For now it sits empty but you can tell something is going on behind the darkened windows. I can't wait for this new place to open as it will be a stone's throw away from my house and welcomed with open arms!
Cafe Neon 241 Wallace Ave


Sitting just on the other side of the Junction Triangle border, literally on the other side of the tracks is this great new cafe. I literally get my morning latte here almost every day during my walk with Harley. This place is totally decorated to my taste with the mix of industrial and vintage from old pipes used to hold wood shelving, to the metal light fixtures hanging above the counter to a graffiti wall done by a local artist, Jeff Garcia. Their food is made on site in their kitchen and includes everything from baked goods (love their muffins) to awesome sandwiches and salads that are to die for. You can totally sit down and stay awhile with their free WiFi and uncovered outlets, which is what the owner, Niki, wants. They also have their liquor license and just started a fabulous brunch on the weekends. Dinner menu is on the horizon which keeps me coming back for more.
St. Andrew's Ukranian and Orthodox Church 1630 Dupont St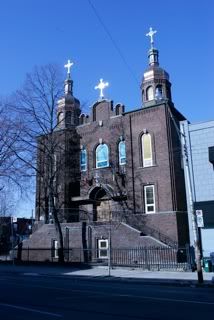 A neighbourhood wouldn't be complete with some sort of church in the area and the Junction Triangle is no different. St. Andrew's Ukrainian and Orthodox Church has been around since 1913 and primarily serves the Ukrainian Canadian community. A lot of Ukrainians immigrants use to live near this stretch of Dupont because of finding industrial work in Toronto versus going to the Prairies to become farmers.
New Developments



Although the Junction Triangle has come a long way and has turned into one of Toronto's desirable neighbourhoods, there is still more development in the foreseeable future. We can already see a lot of the change that has happened, from new restaurants and cafes coming over to our side of the tracks, to reno happy buyers to conversion projects like the Wallace Station Lofts and to a new townhome development on Elsie Lane. But this is only the beginning for the Junction Triangle. The next big development to happen, which is definitely the "talk of the town" is the Tower Automotive Development Project, which will be taking place at 158 Sterling Rd, south of Bloor and north of Dundas. It was purchased by Castlepoint Realty Partners in early 2008. Demolition has been ongoing and plans to continue with 50%-60% of the environmental remediation already complete. While keeping the office tower building, the area will be used to create a mix use of commercial, various types of residential and ground level walk in business (cafes, restaurants, etc) . This development will be great for the neighbourhood and surrounding area as it will create 3000 jobs and attract 1500 new residents. The first phase has a targeted occupancy of 2012, which is just around the corner. The residential portion will include 3-4 storey stacked townhomes and the office side will include loft style offices. They will also try to make more links to the Railpath, probably 2-3 and changes to the roadways are expected to come over the next 5-10 years. This will become what is known as the Distillery District in the east but on the west side of Toronto. Another example of why buying property in this up and coming neighbourhood is a sure bet!

I hope you have enjoyed my first, ever neighbourhood spotlight and please give me any feedback on anything you have read here or any places you have visited that were mentioned.
Also a huge thanks to James Rellinger for letting me drag him around my neighbourhood to take all the pictures for me.